I was recently asked by my neighbour about setting up a website for his restaurant. It's something that I wish I could do, the income would be helpful, but with my current commitments it's not something I am able to do.
After doing a bit of research I am thinking that the best solution for someone wanting a web-site for their restaurant is a managed service like WordPress.com. This would allow someone who is not too tech savy and doesn't want to have to manage the technical aspects of a web-site to have a secure, fast, and stable web-site.
WordPress.com has recently launched a service specifically targeting restaurants, and it looks like a pretty good service. It has a lot of features set-up specifically for restaurants:
Hours & Location

Simple Menus
Menu Embeds
Reservations (Online with OpenTable)
Mobile Ready
They have even launched a few new templates specifically for restaurateurs: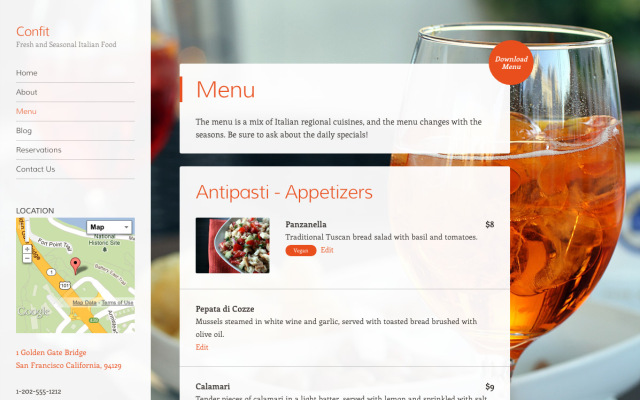 Although you can set-up a free web-site with a domain like http://your-restaurant.wordpress.com there are two upgrades that I would get for setting up a web-site on WordPress.com:
Custom Domain (www.your-restaurant.com, $13/year)
Ad-free (Removes Advertisements from the site, $30/year)
There are many other options that could be purchased, but I think that with those two options, for a cost of only $43/year, it would cover most needs for a restaurant web-site.
You can read more about the WordPress.com restaurant website service on their site, and you can also watch the video below:
Most good restaurant web-sites that you can find include high quality images of the food offered on the menu. In addition to the web-site hosting, a good place to invest some money is with good photos of the food, venue, and possibly some of the staff.